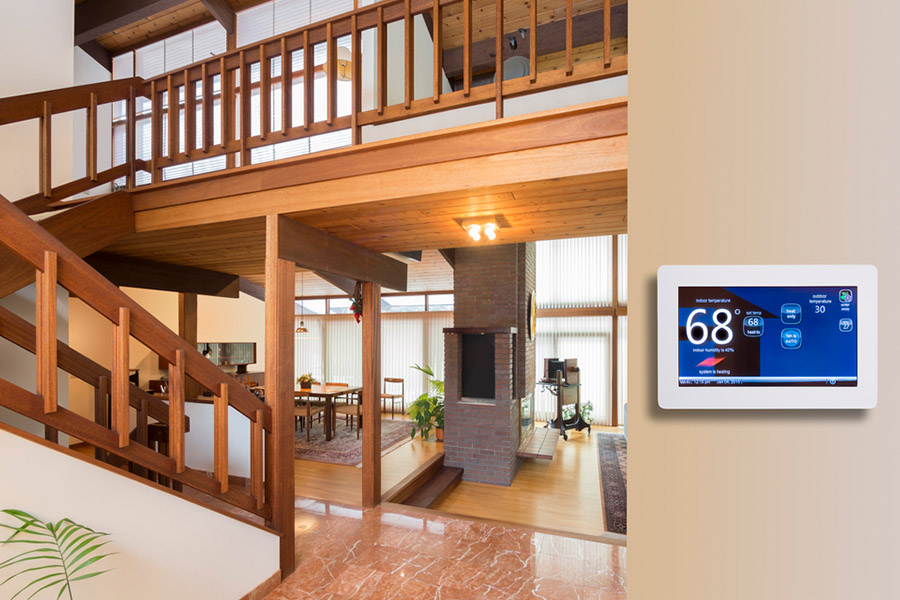 Why Install A Smart Thermostat In Duluth?
Today's smart thermostats have evolved far beyond the basic mechanism for controlling your HVAC system. If you want to install a smart thermostat in Duluth, you stand to get a wealth of comfort with much less work. Offering the benefits of easy Wi-Fi access, multi-room sensors, and home automation, these revolutionary controls will reduce utility bills and improve your home's overall comfort and safety.
How Do Smart Thermostats Work In Duluth?
Following installation, your new smart thermostat will operate the same as your previous model in terms of core usability. The look might be sleeker, but you'll still be able to glimpse the temperature display. You can still increase or decrease your temperature settings from the device, and your thermostat still offers the ability to quickly adjust settings for fan, heat, and cool.
However, when you install a smart thermostat in Duluth, you will enjoy a wide array of new possibilities. That's because your home's comfort control is wirelessly linked into a greater network, like your virtual assistant or your comprehensive home security. Using a smart hub or cell phone app, you may set your smart thermostat to adjust your home's temperature settings in an automated manner at whatever times you choose or to react to a triggered event in your network. The result is a property with enhanced comfort and energy efficiency.
Why You Should Install A Smart Thermostat in Duluth
There are many incentives for upgrading your traditional thermostat to a smart thermostat:
● Simple management through a smartphone app. You can direct the thermostat from a distance with a cell phone app like ADT Control. Is it a little too warm when you're struggling to get some rest? Simply grab your smartphone and lower the temperature without getting up. Or inspect your property's temperature readings on your beach vacation, and alter the temp to conserve energy if no one's at home.
● Take advantage of scheduling. A smart thermostat allows you to implement smart schedules for your home's comfort. Set various temperature adjustments to best fit your lifestyle. Lower the temperature when it's time to go to bed, then bring it back up again in the morning an hour or so before you arise. You can even create different scenes based on "events" -- for example a scene for when you're hosting a party or a scene for when you have a fire going in the winter.
● Lower utility bills through home automation. A great benefit of smart thermostats is how they can reduce utility costs. You have the ability to effortlessly alter comfort levels as needed based on seasonal changes, weather, or your normal daily routine. You won't throw money away heating a vacant residence. In addition, by programming schedules, your thermostat adjusts itself. Various utility services are known to extend incentives and rebates for qualifying models or situations.
● Use vocal directives to control your home. If you elect to install a smart thermostat in Duluth, you may even hook it up to work with an Amazon Alexa or Google Home speaker. This allows you to control the settings without stopping what you're doing.
● Link your thermostat to various home automation components. In the event your smart thermostat is integrated within a comprehensive home security system, you're able to connect all your devices together. This could help safeguard your house from environmental emergencies. For example, you may program your thermostat to activate the ventilation fan if your fire alarm goes off.
Upgrade Your Home With A Smart Thermostat In Duluth Today
When your current thermostat falls short of meeting your energy reduction and comfort demands, you should think about switching to a new smart model. They're stylish, simple to operate, and offer substantial financial savings over the long haul. It's also best when you link it with a state-of-the-art home security system. Call us today at (218) 231-1734 or complete the form below to inquire about your smart thermostat.
Communities Served Around Duluth By Secure24 Your Local ADT Authorized Dealer